H2V59 Project
Renewable hydrogen mass production plant in the Hauts-de-France region
Since 2016, H2V has been taking up the challenge of producing renewable hydrogen on a mass scale.
H2V is investing in, developing and constructing large-scale renewable hydrogen production plants to decarbonise particularly carbon-intensive sectors, such as industry and heavy-duty mobility.
Located in the heart of the Port of Dunkirk, the industrial region responsible for 21% of France's CO2 emissions, the H2V59 project is a key addition to a major European energy hub.
Two 100MW production units (= 200MW)
Annual production of 28,000 T of renewable hydrogen by water electrolysis
To be commissioned in 2024-2025
Creation of about 170 direct and indirect jobs.
Investment of about €235 million

H2V59: a project to aid decarbonisation of the Dunkirk area and France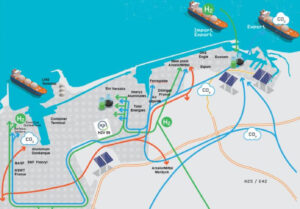 This hydrogen will be exported via a dedicated pipeline or initially mixed with natural gas. It will fuel industrial companies in the port area. In 2030, the H2V59 project may turn entirely to heavy-duty transport.
H2V59 is part of the H2 Hub in Dunkirk:
An identified annual requirement of 350,000 tonnes of green hydrogen by 2030
An investment of €1.5 – €3 billion required to decarbonise the Dunkirk industrial area between 2021 and 2030
Annual emissions of 13.7 million tonnes of CO2 will be avoided by 2050, thanks to the H2 and CO2 hubs.
The Dunkirk region already benefits from expertise in hydrogen production and distribution, for example with Grhyd, France's first Power-to-Gas project, but also with hydrogen buses. H2V59 will contribute to the future emergence of a major H2 hub (production, storage, transportation and distribution).