H2V59 Project
Renewable hydrogen mass production plant in the Hauts-de-France region
Since 2016, H2V has been taking up the challenge of producing renewable hydrogen on a mass scale.
H2V is investing in, developing and constructing large-scale renewable hydrogen production plants to decarbonise particularly carbon-intensive sectors, such as industry and heavy-duty mobility.
Located in the center of the port area of Dunkirk, an industrial basin responsible for 21% of French CO2 emissions, the H2V59 project completes a major European energy platform.
2 production units of 100 MW (= 200 MW)
28 000 T per year of renewable hydrogen produced by water electrolysis
Commissioning in 2024-2025
Creation of around 70 direct and 50 indirect jobs
Investment of around 231 and 250 million euros
280,000 tons of CO2 avoided each year, or the emissions of 160,000 cars

H2V59: a project to decarbonize the Dunkirk area and France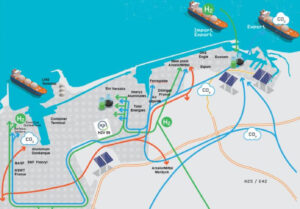 This hydrogen will be exported through a dedicated pipeline. It will be used to supply the port area's industries. In 2030, the H2V59 project will be able to turn fully towards heavy mobility.
H2V59 is part of the H2 Hub in Dunkirk:
An identified need for 350,000 t/year of green hydrogen by 2030
1.5 to 3 billion euros of investment required to decarbonize the Dunkirk industrial basin between 2021 and 2030
13.7 MT/year of C02 will be avoided by 2050 thanks to the H2 and CO2 hub
H2V59 will contribute to the emergence of a major H2 hub (production, storage, transport, distribution).