H2V Warndt - Naborien Project
Renewable hydrogen mass production plant in the Grand Est
Since 2016, H2V has been taking up the challenge of producing renewable hydrogen on a mass scale.
H2V is investing in, developing and constructing large-scale renewable hydrogen production plants to decarbonise particularly carbon-intensive sectors, such as industry and heavy-duty mobility.
The H2V WN project is being carried out in partnership with GazelEnergie on the site of the Emile Huchet power station, near Saint-Avold in the Grand Est region of France. 
Four 100 MW production units (= 400 MW)
56,000 T a year of renewable hydrogen
By water electrolysis
To be commissioned in 2026
Creation of about 130 direct jobs and 200 indirect jobs.
Investment of €400 – €450 million

H2V Warndt Naborien: a custom-made project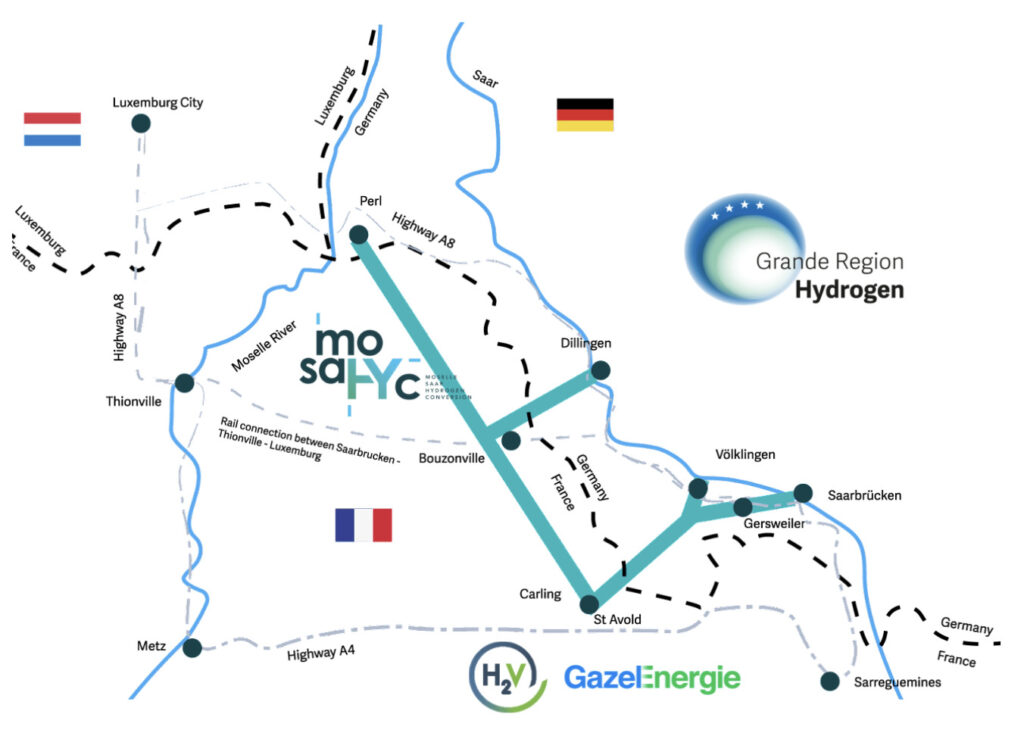 Together with its partners in Germany and Luxembourg, H2V has begun the Grande Region Hydrogen EEIG initiative (GRH), aimed at speeding up the creation of a regional hydrogen ecosystem, involving over €600 million in investment, to produce up to 61,000 T of hydrogen a year.
The hydrogen that is produced will be transported via the dedicated Moselle-Saar-Hydrogen-Conversion pipeline (known as MosaHYc) to supply fuel for the industry and transport sectors in France, Germany and Luxembourg (see diagram).
The project is part of the creation of a local hydrogen industry, supported by a regional agreement.
The H2V WN project is in a key strategic location in terms of transport, at the crossroads of 2 Trans-European Transport Network corridors (TEN-T Corridors). It is also close to one of France's four navigable inland waterways. There are many established industries in the area. The renewable hydrogen that is produced will supply fuel for heavy-duty transport and local or cross-border industry.