H2V Thionville Project
Renewable hydrogen gigafactory in the Grand Est
Since 2016, H2V has been taking up the challenge of producing renewable hydrogen on a mass scale.
H2V is investing in, developing and constructing large-scale renewable hydrogen production plants to decarbonise particularly carbon-intensive sectors, such as industry and heavy-duty mobility.
The H2V Thionville project is located on the port site of Thionville- Illange in the Grand Est region.
4 production units of 100 MW (= 400 MW)
56,000 T per year of renewable hydrogen produced by water electrolysis
Commissioning in 2027
Creation of around 120 direct and 70 indirect jobs
Investment of around 500 and 550 million euros
560,000 tons of CO2 avoided each year, or the emissions of 320,000 cars

H2V Thionville: a custom-made project to suit all forms of transport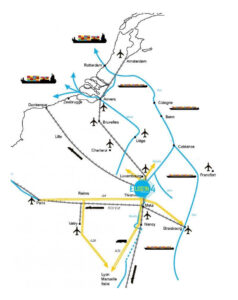 Its location at the Port of Thionville-Illange means the H2V Thionville project is sited on the E-LOG'IN 4 multimodal logistics hub, in the heart of a strategic transport area, with direct access to motorways, a connection to the international rail network and quays along the waterway. A high-quality infrastructure that meets multimodal logistics requirements, facilitating road/rail, road/rail/waterway and road/waterway connections and serving as an air freight support base. Multi-fuel hydrogen stations operated by Distry, also a Samfi Group subsidiary, will be set up nearby to generate further stimulus.
Developed on a former brownfield site, the H2V Thionville project forms part of the overall thinking about a circular economy. For example, the oxygen released when producing hydrogen can be reused by the nearby wastewater treatment plant.