H2V IDF Project
Renewable hydrogen mass production plant in the Île-de-France region
Since 2016, H2V has been taking up the challenge of producing renewable hydrogen on a mass scale.
H2V is investing in, developing and constructing large-scale renewable hydrogen production plants to decarbonise particularly carbon-intensive sectors, such as industry and heavy-duty mobility.
The IDF Project is sited near the Seine and the many outlets it represents as regards the use and transportation of hydrogen.
Four 100MW production units (= 400MW)
56,000 T a year of renewable hydrogen
By water electrolysis
To be commissioned in 2028
Creation of 100 – 130 direct jobs and 100 indirect jobs
Investment of €400 – €450 million

H2V IDF: a custom-made project to suit all forms of transport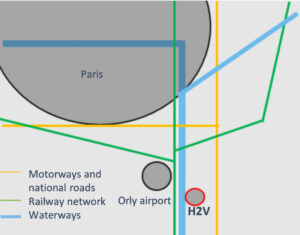 Given its population size of 12 million, Île-de-France represents a major challenge as regards passenger and goods transport alike. The site is in the ideal location, near the Seine, close to Orly airport and line D of the RER train network as well as major road junctions. We will therefore be able to meet the needs of airport, river and rail traffic, and also supply fuel stations developed nearby.
A strategic partnership with HAROPA PORT
HAROPA PORT develops and manages all port areas along the Seine, from Le Havre to upstream of the Seine. The project addresses our joint determination to reduce CO2 emissions and respect local residents' quality of life.
Together with HAROPA PORT, H2V is committed to this drive to decarbonise port areas through a cleaner industry that matches regional requirements.